I'm an undergraduate computer science major with a focus in system architecture and theory at the Georgia Institute of Technology in Atlanta, Georgia.
About Me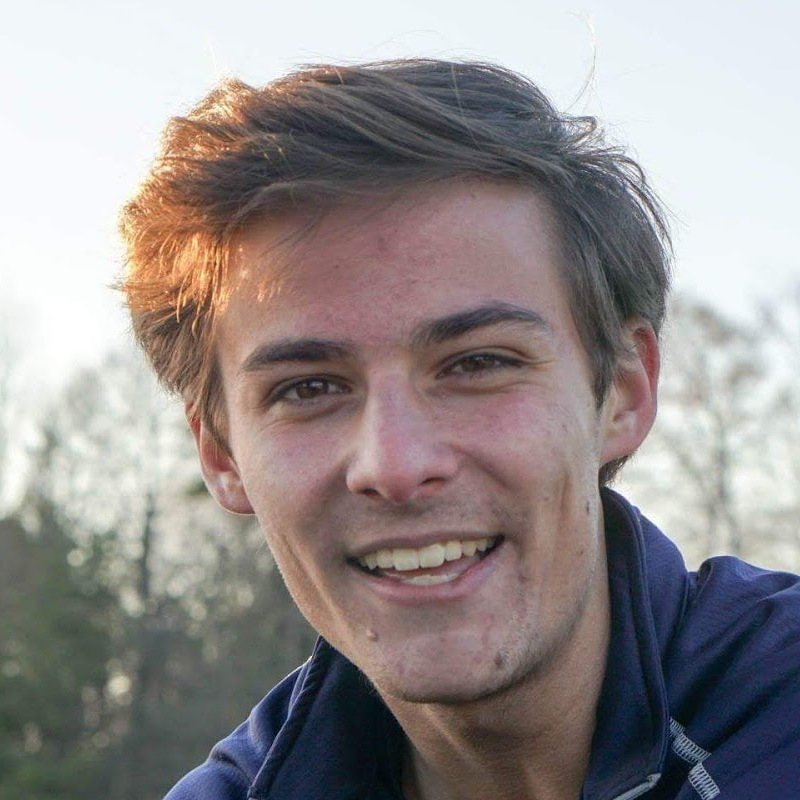 I have been interested in computer science since I was six years old, and have built up an unmatched passion for the field. I have extensive experience in software development and research from internships, projects, and competitions. I am currently a full-time student at the Georgia Institute of Technology's College of Computing as a computer science major with a focus in system architecture and theory, and am working part-time as a Student Research Assistant at the Georgia Tech Research Institute.
Education
Georgia Institute of Technology
B.S. Computer Science • Fall 2015 - anticipating graduation in Spring 2019
I was included in the Dean's List in the following semesters: Fall 2015, Spring 2016, Fall 2016, Fall 2018.
I have taken classes such as Data Structures & Algorithms, Objects and Design, Computer Organization & Programming, Systems & Networks, Operating System Design, Algorithm Design & Analysis, and Compilers & Interpreters.
Hong Kong University of Science and Technology
B.S. Computer Science • Fall 2017
I studied abroad in Hong Kong for the Fall semester of 2017.
I traveled around Japan and China to experience and learn about other cultures.
I took Operating Systems, Algorithm Design, and Number Theory.
North Carolina School of Science and Mathematics
High School Diploma • Fall 2013 - Spring 2015
I have taken AP Computer Science I & II, Advanced Programming, Data Structures, and more.
I received the annual computer science department award of academic achievement.
Work Experience
Kindred Spirits Atlanta, LLC
Co-Owner and Bartender • December 2018 - Present
Cater events with bartending and mixology services.
Create curated cocktail menus for events with innovative and complex recipes to meet the needs of all event attendees.
Engage with customers and provide outstanding service and hospitality to build customer relations and increase company value.
Maintain and file all necessary legal documents to ensure legitimacy of the business.
Georgia Tech Research Institute
Student Research Assistant • January 2016 - Present
I have been developing and researching a new data model for handling and analyzing sonar data.
I have developed, deployed, and manage a web application hosting this new data model.
I researched and implemented a crime forecasting system using Python and PostgreSQL.
I worked on the development of a wearable technology based 911 communication assistance tool.
I worked on the research and development of a parallel, distributed stream processing library using functional programming in Scala.
The Boeing Company
System Architect Intern • May 2017 - August 2017
I developed a security auditing tool suite for Red Hat Enterprise Linux 7 using Bash.
I helped with the developed a web-based data visualization tool using HTML5, C#, and SQL Server.
I developed several perl scripts as needed by team members.
The Boeing Company
IT Intern • May 2016 - August 2016
I documented and executed an upgrade plan for the company's identity management servers.
I developed an Outlook-integrated conference room mapping tool.
I designed and began development of a web-based Kanban board tool.
I developed an in-house analytics tool to manage which types of employees are accessing certain sites.
North Carolina School of Science and Mathematics
Teaching Assistant • August 2014 - June 2015
I tutored students who needed help in the AP Computer Science I and II classes.
I assisted the computer science professors with anything they needed, such as looking over assessments before they were given.
North Carolina State University College of Textiles
Research Intern • June 2014 - July 2014
I participated in an engineering research internship at North Carolina State University's College of Textiles under the Advanced Self-Powered Systems of Integrated Sensors and Technologies (ASSIST) Program. The ASSIST Program conducts research on wearable technology that harvests energy from the human body instead of a battery or other source of electricity.
The company Porticos came to the ASSIST program at NC State looking for a few students to conduct some research on their new product the Porticool. The Porticool is a cooling vest that regulates the body temperature of people who work in environments of high temperatures. The company wanted us to look into integrating a self-powered electronic system into the vest that could potentially power various sensors. We used thermoelectric generators to create a current from the temperature difference between the vest and the body.
We looked into what sensors we could possibly power, along with what sensors we would want to power. We wanted to integrate different sensors into the vest depending on the desired use of the vest. In a situation like a fire fighter, we may include sensors like a heart rate monitor, air quality sensor, and some sort of indoor location mechanism. These sensors would be working together to make the firefighter's job safer, ensure their safety, and regulate their body temperature in the harsh environment.
Skills
Linux System Administration
Languages

C, C++
Go
Python
Shell script
Java
C#
SQL, MySQL, PostgreSQL
HTML5, CSS3
JavaScript
LaTeX
Projects
Linux Configuration
January, 2017 - Present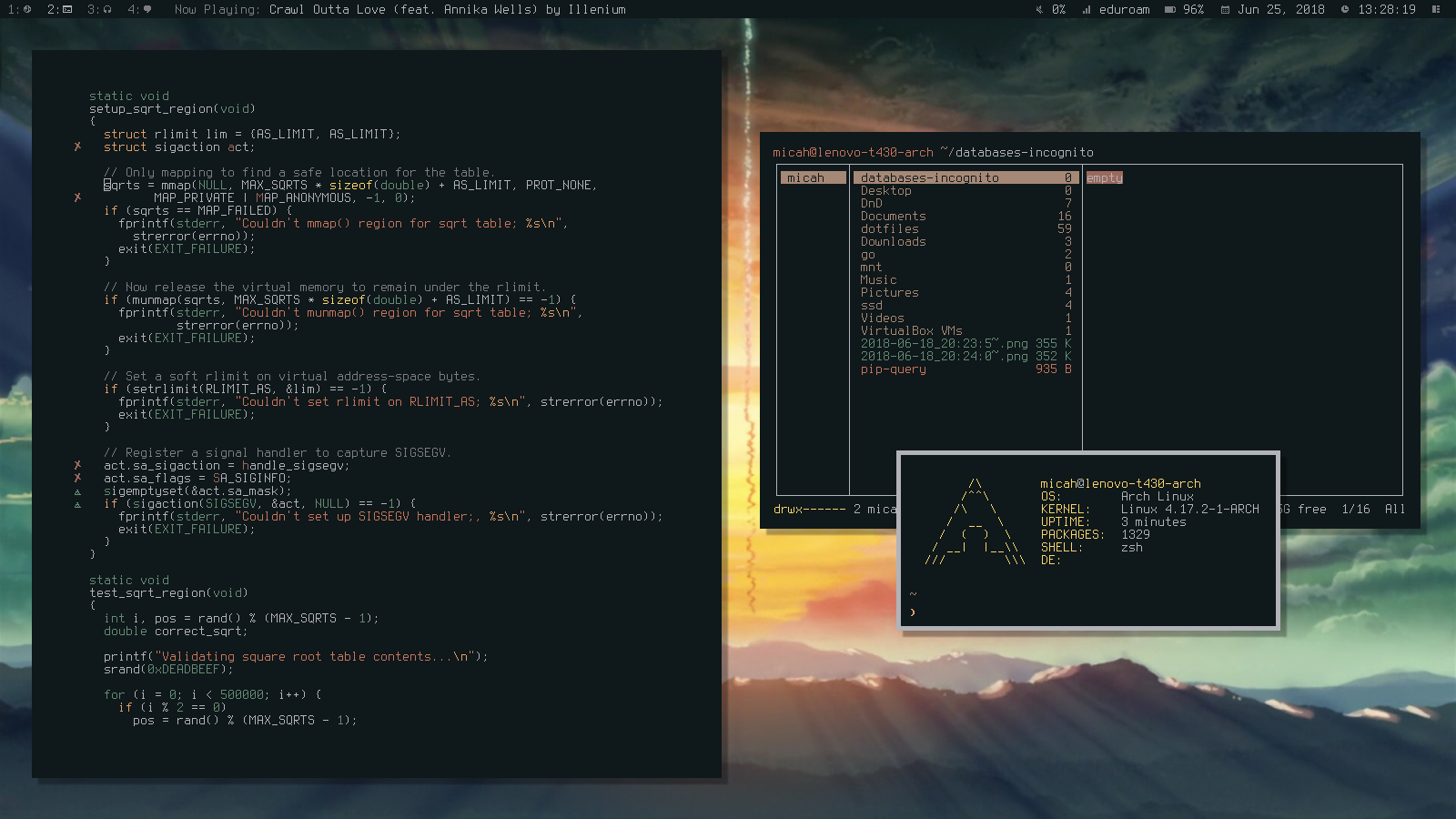 I have been working on a vim-based linux set up to optimize my workflow on my computer. My current workflow includes tools like a tiling window manager (i3-gaps), the vim text editor, command line interface applications, and many custom scripts to automate tasks I do a lot.
Clean Water Crowdsourcing
September, 2016 - November, 2016
This is was a team project for the Objects & Design class at the Georgia Institute of Technology. This project allowed us to go through the entire development process from design to implementation of a full Java based application. It allowed us to learn good development practices to make sure code is concise, maintainable, and sharable.
Huffman Coding
May, 2015
Wrote a C based implementation of the Huffman compression algorithm for a final project in my Data Structures I class.
Verificia
August, 2014 - April, 2015
Designed a new password entry method to protect against key-loggers, mouse-trackers, and screenshot-grabbers.
Programmed and deployed a working prototype website as a proof of concept. Pitched the idea through a business portfolio and an oral presentation to investors and judges.
Achieved finalist status in the competition and am recognized as a Pete Conrad Summit Diplomat.
Multi-Player Conway's Game of Life
February, 2015
Wrote a Java based version of Conway's Game of Life for a final project in AP Computer Science class and Introductory Complex Systems class.
Added new rules to this famous cellular-automata to introduce competition into the cellular world.